Stoney Came as He Was, and Conquered
I'm a little late to the post-Post Malone covering Nirvana party
I am starting to come around to the fact that concerts may never, ever go back to being the same again. Don't know if I can see myself doing the drive-in thing, no matter how retro kitsch. If At the Drive-In aren't going to reunite to play one, what's the point really?
I've become pretty blasé about live streams too, but that probably has more to do with Zoom meeting fatigue. One exception however has been Post Malone's all-Nirvana covers set he did way back in April as a fundraiser for the WHO. I was one of those who had been indifferent towards Mr. Post pre-pandemic; I had heard "rockstar" and knew that kids today were into him like I adored Kurt Cobain as a twentysomething. Oh, and the face tattoos of course, although over the course of 75 or so minutes Post Malone proved to me how he's so much more than that.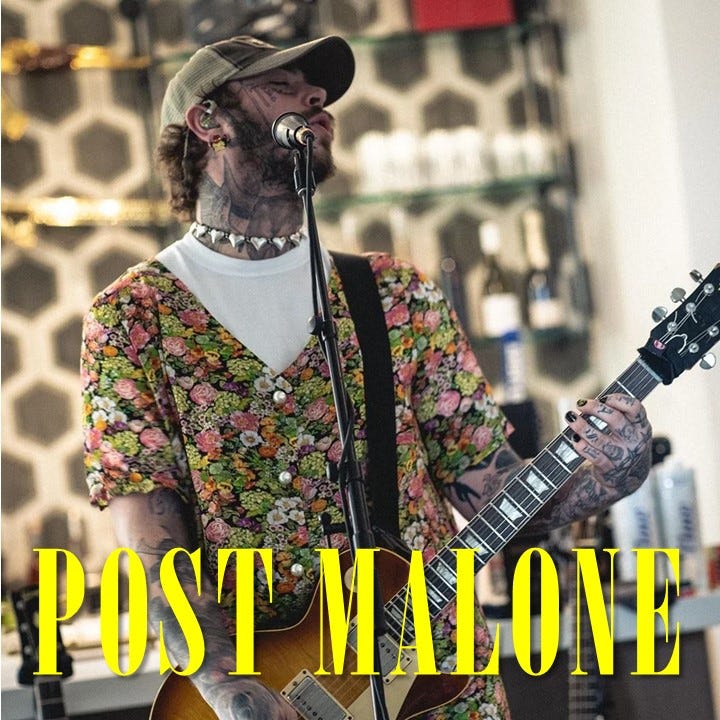 Wearing his best Sunday dress as a nod to how Cobain used to gussy himself up for shows and backed by a band that encompassed Blink-182's Travis Barker, Malone shreds and screeches his way through a 15-song set summarizing Nirvana's short but impactful career for a new generation. He does a masterful job of it too, dare I suggest better than the handful of times Dave Grohl has reconvened the brand with other surviving member Krist Novoselic. I think I've watched Post Malone's performance more times in the past few months than all of Nirvana's video releases ever, it's that freaking good how he mines their surprisingly extensive back catalogue to display his fandom for the world to judge without showing off. From the first riffs of unexpected opener "Frances Farmer Will Have Her Revenge on Seattle", I was hooked and remained impressed the way Malone confidently took on big hits ("Come as You Are", "Lithium". "Heart-Shaped Box" and "In Bloom"), along with almost-forgotten tracks. He even had bassist Brian Lee switch to violin for "Something in the Way"! It's already made millions in COVID-19 solidarity response funds, but if you haven't seen it yet what the heck are you waiting for? Another plague?
If you were to give me the choice when we're finally in the clear of seeing Post Malone try to strike music gold twice or Grohl/Novoselic go to the well one more time, I'm taking Posty hope that's not sacrilegious to some. Dave's going to have his hands full anyway rejiggering the whole twenty-FOOth anniversary for that side project of his. Should he ever feel like getting behind the drum kit again he can always hook back up with bud Josh Homne and that older gentleman from Led Zeppelin…
Nirvana is a foundational block of the ALL-TIME ALT. list I aggregated from 1,000+ song countdowns that aired on Toronto's CFNY-FM, KNDD in Seattle and Q101 Chicago to close out the 2nd millennium. They had 28 entries including the studio singles for "All Apologies" and "Polly", in addition to the MTV Unplugged in New York version and "(New Wave) Polly", respectively. Malone stayed away from "Smells Like Teen Spirit", which is actually the most Nirvana thing he could have done. They routinely didn't play it during the In Utero tour, two instances being their final show together in Germany or when I was lucky enough to be in attendance at Maple Leaf Gardens. "The Best of What Posty Didn't Cover" is, well, a playlist of 19 charted songs that weren't part of Malone's one-off plus "You Know You're Right" from the 2002 greatest hits album and rarities Grohl, Novoselic and friends have busted out on the three occasions Nirvana has "reunited". It will have to do I guess until footage of the 2014 club gig following the Rock and Roll Hall of Fame induction is eventually released with Sonic Youth's Kim Gordon singing on "Moist Vagina", among other Reddit-worthy discussions.