The Internet's Most Wanted Downloads
Technology hits a major milestone as the MP3 turns 25
I am an admitted sucker for music-related anniversaries, the more obscure the better. So when I learned July 14, 1995 was the day the .mp3 file extension officially came into existence, I kind of feel obligated to acknowledge the format taking up virtual real estate on more than one of the external hard drives my wife asks me every so often why I still have around.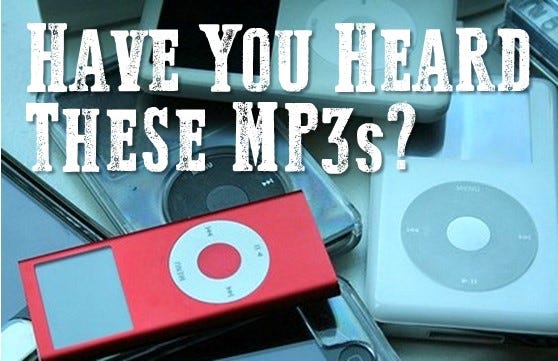 I can barely remember what I said to her 25 minutes ago, let alone when I would have started downloading MP3s in earnest. It was certainly well before Napster became a dominant online presence in 1999; the scourge of Metallica's Lars Ulrich was simply a more streamlined way to hunt down content housed on disparate FTP servers.
The MP3 was developed by Germany's Fraunhofer Society for the Advancement of Applied Research, basically compressing songs that would be ten times bigger in terms of data if ripped from a compact disc without discernible differences to the human ear. Der mann who was primarily responsible apparently had "Tom's Diner" by Suzanne Vega on a continuous loop to ensure consistent audio quality. Seriously, who wouldn't want to sing along to "doo doo doo doo doo doodoo doo" at work over and over again?
No, they would never sound as rich, detailed or immerse as anything played off of a vinyl record, but who ever went to an MP3 listening party? Personal hoarding was the objective, and because of their (relatively) small size as well as potential to be transferred via the information superhighway, you could amass quite the music compilation with just a little know-how. I have no recollection of the addresses I typed into Netscape Navigator back in the day, although I will confess to making lists of songs I wanted to acquire, waiting until everyone was asleep so I wouldn't tie up the family phone line, queuing up the downloads and then crossing my fingers they'd all be finished by morning. First world problems I know, and ones that no one over the age of say twenty years old will ever have to deal with now that streaming rules the roost.
For anyone reading who was around during this period of rampant piracy, what was the first MP3 you recall downloading? Mine was most likely the live at Los Angeles' Roxy version of The Tragically Hip's "Highway Girl", which I had only heard on radio before I realized what aural treasures the world wide web held.
Let me know in the comments which songs were on YOUR most wanted list. I won't squeal to the feds!

In hindsight, yeah a part of me was fully aware how my actions were adversely affecting some of the artists I loved. On the other hand, change is inevitable and not to justify past transgressions, but if there is any group of individuals who will adapt, survive, or reinvent themselves if they have to while not compromising their creative values, it's musicians. Even as slumping CD sales evolved into iTunes and smartphones as the new boom box, great rock of the alternative variety keeps getting made. Just gotta do a little diggin' sometimes, which this newsletter hopes to help facilitate.
This playlist, in case anyone is wondering is based on CFNY-FM Toronto's "Top 1,002 of All-Time" that I scrambled to have a complete copy of before the 20th century closed out. Figured I would come clean to both the FBI and RCMP. As I invite you to put on nostalgia headphones and reminisce about how the latter half of the 90s didn't entirely suck, allow me to slip on rose-coloured glasses and also say I am confident music will play a big role in saving us from our current situation. Great minds were able to tear down proverbial borders and make something as trivial as distributing songs easier in 1995, with the spreading of excitement outweighing any financial negatives. Twenty five years later, they are definitely brainstorming how to bring joy back to the world through art. Maybe leave nü-metal in the past though, OK?